It has been quite a week for Germany. On Friday the U-21 team beat Spain to win the U-21 European Championship, the first U-21 title for Germany since the magical team of 2009, and today, what could easily be described as a German C team in terms of quality of player, beat Chile's golden generation to win the Confederations Cup. While it is no doubt questionable how impressive the standard of football being played in the Confederations Cup  is, these victories are very large shows of intent by the German National team, and the rest of the world needs to stand up and take notice.
Obviously the German team is good, they are after all the defending World Cup Champions, but ever since their magical run in Brazil the German National team has had a run of less than impressive results, including a less than impressive Euros campaign last summer, that still managed to produce yet another Semi-Final appearance. It would have been easy to assume that heading into the 2018 World Cup, Germany were not a favorite to win it. This has all changed in the matter of a few days, nearly a year out from the 2018 World Cup.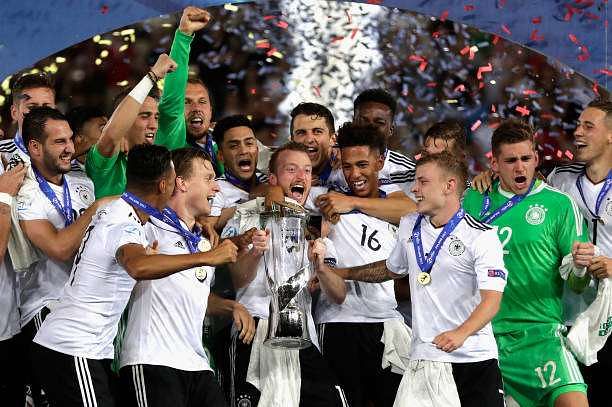 It would not have been a shock for a Germany squad featuring the likes of Müller, Neuer, Boateng, Hummels, Reus and Özil would have been able to challenge the likes of Mexico and Cameroon, and had a good chance to take down two-time defending Copa America champions Chile; however this was not the team that won the Confed Cup, in fact it was not even close to being the best team German could have put forth. This summer has shown the incredible depth that the German National team has heading into another World Cup. Their C team is able to compete with some of the best countries in the world, what can their A team do next summer?
Another positive takeaway from this summer is where the players on the German teams are coming from. The U-21 Euro Champions and Confed Cup teams used a total of 45 players, 35 of those currently play in the Bundesliga. That shows that the long-term plan that the DFB had to build a steady stream of youth players through the youth academies of German clubs, is paying off. They were able to create not just a golden generation, like England in the '90s and Chile today, but they have created multi-generational success that is, in theory, renewable forever. It is also important that only 3 of the players on both squads currently play at Bayern Munich, those being Joshua Kimmich, Sebastian Rudy and Niklas Süle. With only Kimmich being a member of the Bavarian giants before the tournament began. This is a huge development, because it shows that world-class talent is being produced by many clubs from within Germany, and the national team is no longer dependent on Bayern to produce the bulk of the squad. In fact, more players on the two victorious sides suited up for FC Köln last year(Lukas Klünter and Jonas Hector), than played for Bayern last year.
Now I am not going to say that Germany are a lock to win the 2018 World Cup, although I may be thinking that, but the world has officially been put on blast that Germany is here to play and you have got to bring your A game to unseat the defending World Champions.